Hero of Pizza
Staff member
Administrator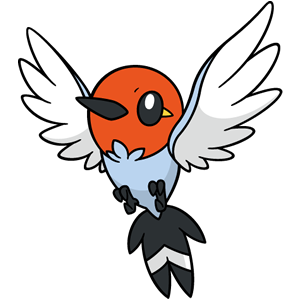 #661 - Fletchling
[type=flying][/type]/[type=normal][/type]
​
Japanese Name:
Yayakoma
Classification:
Japanese Robin Pokémon
Height:
0.3m / 1'00"
Weight:
1.7kg / 3.7 lbs
Egg Group: Flying
Ability:
Big Pecks
Hidden Ability:
Gale Wings
Revealed:
Fletchling, along with
Pancham
,
Gogoat
, and
Helioptile
, was first revealed on May 11th within a leaked scan from the June 2013 issue of
CoroCoro
. It was officially revealed on the Pokemon website on 15th May. It's said to have a beautiful battle cry.
Additional Info:
As described by Pokemon.com, "with a friendly nature and a beautiful chirp, Fletchling is a popular Pokémon among many Trainers. But Fletchling is also known to be ferocious in battle, capable of unleashing relentless attacks!"
X:
These friendly Pokémon send signals to one another with beautiful chirps and tail-feather movements.
Y:
Despite the beauty of its lilting voice, it's merciless to intruders that enter its territory.
Route 2, Route 3
Evolves into
Fletchinder
at Level 17.
--- Tackle
--- Growl
Lv. 6 - Quick Attack
Lv. 10 - Peck
Lv. 13 - Agility
Lv. 16 - Flail
Lv. 21 - Roost
Lv. 25 - Razor Wind
Lv. 29 - Natural Gift
Lv. 34 - Flame Charge
Lv. 39 - Acrobatics
Lv. 41 - Me First
Lv. 45 - Tailwind
Lv. 48 - Steel Wing
​
Last edited by a moderator: