Eevee Tamer
Staff member
Moderator
This months edition of Japanese magazine,
CoroCoro
has begun to leak and this month the magazine has revealed a brand new Pokémon!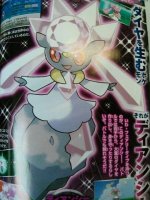 Our new Pokémon is called Diancie in Japan and is a Rock and Fairy type. It's known as the Jewel Pokémon. Diancie will star in the 17th Pokémon movie alongside Xerneas, Yveltal and a collection of Mega Pokémon. To go alongside the reveal the movie has now had its title updated and will be going by the name
Pokémon: Cocoon of Destruction & Diancie.

With the reveal of Diancie our total count of Pokémon is now brought up to an impressive 719.
Last edited: