OH NO! A fiendish Ogre has kidnapped the Princess!! Who will save her?!!!
​
Rules:
The object of this game is to defeat the Ogre and to save the Princess.
The Ogre currently has 100 HP, and will be defeated when it no longer has any life left.
You, the players, must defeat the Ogre within 100 posts, or he will eat the Princess and you will have lost the game.

This is a Drawing game, in which the players must draw as many methods as possible to attack the ogre.
Anything goes here; Swords, Spears, Guns, Bombs, Lasers, etc. You draw it, the Ogre will take damage from it. But exactly how much damage can you deal with every post?
The damage you deal is based on the Pokemon that appears in the Pokecharms Pokedex feature.
If the Pokemon is a single stage/ base form Pokemon (ex. Pichu, Scyther, Miltank etc.) than you deal 1 damage to the Ogre.
If the Pokemon is an evolved form (Ivysaur, Raichu, Torterra etc.) than you deal 2 damage to the Ogre.
If the Pokemon is a legendary Pokemon (Mew, Raikou, Lugia etc.) than you deal 3 damage to the Ogre.
If the Pokemon is a shiny Pokemon, than you deal damage based on what kind of Pokemon it is, +1 more damage. (for example: If you got a Shiny Magikarp, you deal 1 damage because it's a base form, and another damage because its Shiny, making your total damage 2 points)
Also, if your post number is dividible by 10 (10, 20, 30 etc.) you score a critical hit, which means you deal twice the damage ( for example: If you are the 10th poster, and your Pokemon is Mewtwo, you score 3x2 damage, a total of 6 damage to the Ogre.)
Remember, this is a drawing game, so you have to draw your attack.
Anyone without a picture in their post will have their post deleted.
Also, you cannot one-hit kill the Ogre. That's cheating and just isn't fun. Speaking of cheating, you also can't refresh your page until you get a good Pokemon. Work with what you have and just let the game play at its own pace. You can use any drawing program you like, and even if it's just a simple stick figure on MSPaint, that's fine too.
Now that that's out of the way, let the battle begin!~
I wil go first to serve as an example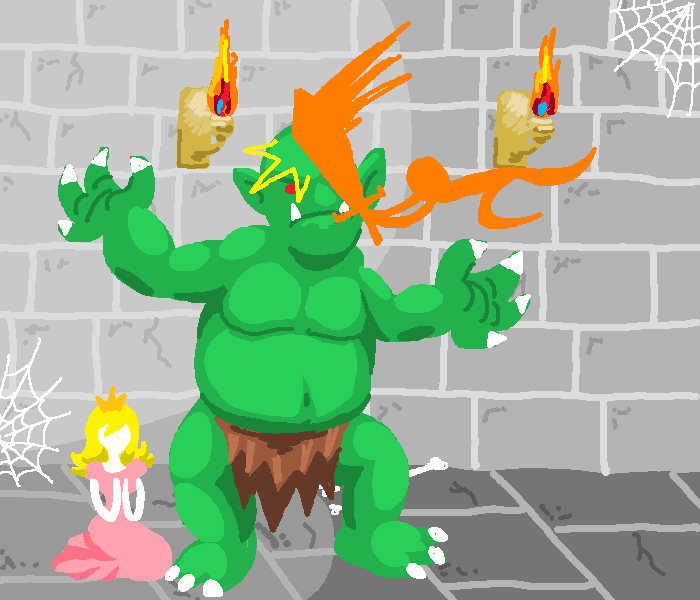 RX attacked with a Broadsword!
He deals 1 damage! (The Pokemon I got was Koffing)
The Ogre has 99/100 HP left!
​