Monday, September 19th
"You heard the rumors, right? What a lunatic! That girl...what was her name? Zola...? Yea, she's been going around telling everybody she saw the future. Ain't that crazy! What a psycho! I don't know about you, but there's no way any of that crazy talk she was spouting could come true. I mean, the sky breaking? And people turning into mermaids and goblins? That's ridiculous, but whatever, believe what you want."
-----------------
Zola's 'prophecy' has been the buzz around the school, the talk of students, and teachers alike. Everyone's been a bit on edge after the girl in question had a hysterical break in one of her classes, scribbling her crazy-talk all over her desk before she had to be sent home. She didn't go quietly, that's for sure.

The RP:
This RP is based on a series of the same name called The Oscillation, written by Scott Edwards, (I recommend giving it a read but it isn't necessary for this RP).
The Oscillation is a world-wide event that granted some people around the world a plethora of special gifts straight out of the tales of myth and legend. Your character is one such person affected by the Oscillation.

The setting of the RP is Zenobia High School, on a Monday morning unlike any other. Your character is free to be a student, teacher, visitor, staff, etc. So long as they have a reason to be at the school that day.

You will require two (2) character sheets for this RP. You'll need a starting bio, which will detail the character and personality of your OC before the Oscillation, and you'll need an Oscillation-changed bio that details their changes after the Oscillation.

Outside of the powers and abilities granted by your inherited Myths and Legend, you'll also inherit, to a degree, the dispositions of those mythical beings and legendary characters.

That is to say, if your character ends up inheriting a myth or legend known for being vicious and malevolent, then your character would be pushed towards acting in that way. This 'compulsion' is not absolute, it simply makes it easier for your character to act in that manner, and also introduces some variation to your OCs starting personality.

How you handle this change is entirely within your jurisdiction. So long as it is present in some reasonable way, I have no complaints. However, keep in mind the characters should gradually grow accustomed to their new abilities, so they'll need to discover what they can do.

Luckily, this is made easy by the mysterious System; a disembodied voice, that rings in head-space of everyone affected by the Oscillation.

You should keep an up-to-date list of the traits and abilities your character inherited from their myth, whether it be a change in personality or developments in the arcane arts.

A skill sheet, so to speak.

The Oscillation utilizes a very game-like setting and it can be treated like a game to some degree. The 'System' is a mysterious entity that seems to control the acquisition of skills and abilities. Although characters intuitively know how to utilize their abilities, they will not have access to all of them straight away. Abilities become available to characters based on their needs and wants. If a character wants to perform a certain task, they may develop an ability that allows or assists them in completing that task. What skills you can acquire are, however, restricted by your Myth/Legend.


Rules:
Follow all general charm rules

Only 2 OCs allowed per Rper

Romance Allowed, but keep it PG-13

Suggestions for plot ideas and arcs are welcome!

Have Fun!

No Omnipotent Characters
Discord Server:
https://discord.gg/Q3WsgjQ (Join the The Oscillation Discord Server!)

Name:
Gender:
Age:

Physical Features:
(Descriptions including height, weight, hair color, eye color, body shape, etc.)

Appearance: [Optional]
(Descriptions including clothing, accessories, piercings, hairstyles, etc.)

Personality:
(General description of personality. Can include likes & dislikes)
Name:
Kinship: (Mythickin or Legendkin)
To clarify the difference between Mythickin and Legendkin.

A mythickin refers to a race of creatures (Dragons, Pheonix, Kitsune, Nekomata, etc.)
A legendkin refers to a specific individual (Heracles, Perseus, Seigfried, Pele, Atlanta, etc.)
To give an example. If your character was a fairy, then they would be Mythickin: Fairy; but, if your character was based on Titania, Queen of the Fairies, they would be Legendkin: the legend of Titania.
Myth/Legend:
Gender:
Age:

Physical Features: (Changed by the Oscillation)
(Descriptions including height, weight, hair colour, eye colour, body shape, etc.)

Appearance: [Optional]
(Descriptions including clothing, accessories, piercings, hairstyles, etc.)

Personality: (Changed by the Oscillation)
(General description of personality. Can include likes & dislikes)

Mythos:
(The Legend or Myth your character derives their power from and the abilities they would gain from those legends.)

Skill Sheet:
This is a list of all the abilities your character would inherit from their myth.

E.g. A character based on the Hydra might have skills like:

Poisonous Blood
Enhanced Regeneration
Multiple Heads
etc.


The Oscillation uses a game-like system and skills can manifest in the form of Skill 'trees'. Skill trees consist of skill branches and leaves.

Skill Branches, or Cluster Skills, don't do anything by themselves but are an umbrella name for a group of related skills. For example, a group of skills related to wielding a sword might fall under the Swordsmanship Branch.

Leaves refer to individual skills and they can be either passive or active. Active skills must be triggered or intentionally activated to be used, they are generally under the user's control. Passive skills are constantly in usage and cannot be turned off, though the user may learn to control their effects over time.

E.g.
SOLAR ESSENCE ABSORPTION (PASSIVE)
Absorbs energy from the sun which can then be refined for the user's own usage. This requires direct contact with sunlight.

THE NATURE OF YANG (PASSIVE)
When in direct sunlight Power, Strength, and Toughness are increased by 1 stage.

PURE YANG QI [ASPECT: HARDNESS] (ACTIVE) The aspect of Yang focused on is hardness; this skill produces golden light which can be shaped to the user's will. The light contains the property of 'hardness'.
LUNAR ESSENCE ABSORPTION (PASSIVE)
Absorbs energy from the moon which can then be refined for the user's own usage. This requires direct contact with moonlight.

THE NATURE OF YIN (PASSIVE)
When in direct moonlight Quickness, Agility, and Resilience are increased by 1 stage.

PURE YIN QI [ASPECT: SOFTNESS] (ACTIVE)
The aspect of Yin focused on is softness; this skill produces silver light which can be shaped to the user's will. The light contains the property of 'softness'.
Note:

For Legends known to be either invincible, invulnerable, immortal, omnipotent, omniscient, etc. their abilities will be nerfed accordingly to avoid skewed characters.

e.g. Achillies (near-invincible except for his heel), Sun Wukong (5 times immortal), various gods of knowledge, etc.

Stats:
Force

Power: is an explosive and wilder exercise of force. This could also mean potential force as one can have an extremely high power capacity, but be physically extremely weak.

Strength: is a slower and more controlled exercise of force.

Defense

Toughness: is how much damage we can take before our bones are crushed and skin torn.

Resilience: is how well we can redirect force. This can be affected by abilities that redirect damage or mitigate them through some magical or supernatural means.

Dexterity

Speed: is the ability to move the body in one direction as fast as possible.

Agility: is the ability to accelerate, decelerate, stabilize, and quickly change directions with proper posture.

Quickness: is the ability to react and change body position with a maximum rate of force production.

Energy

Constitution: is how long we can function consciously. This has to do with 'mental fatigue'.

Stamina: is how long we can function physically. One may be physically weak but can operate for an extended period with spells or other abilities.

Endurance: mitigates the use of all our abilities dealing with Stamina and Constitution, i.e. high endurance reduces the expenditure of Stamina and Constitution.

Tenacity

Elemental Resistances: Resistance to elemental magic or abilities fueled by certain elements.

Control Resistances: This has to do with stuns, charms, and other status effects.

Penetration: is a stat that helps bypass resistances.

Extremely High
Very High
High
Above Average
Average
Below Average
Low
Very Low
Extremely Low

Note:
A character can have a maximum of 6 stats that fall within the ranges High - Extremely High.
Any more than 1 Extremely High stat must be balanced out by lowered stats elsewhere.
If needed a more in-depth explanation of Stats is provided in the FAQ section.
My OC:
Name:
Catherine Grimaldine

Gender:
Female

Age:
17

Physical Features:
Shorter than many of her younger schoolmates (at only 4'8"), Catherine is among the shortest in her year group and boasts no qualms about it. She has curly black hair that falls to her shoulders and asymmetrical bangs that cover the dark-brown iris of her left eye. Her dark lips can often be found pressed into a line, giving her a stern expression, but is actually a result of her habit of biting the inside of her lips.

Appearance: [Optional]
Preferring the feeling of warm and toasty clothing, Catherine is often found in long-sleeved shirts that fit snuggly around her body paired with form-fitting jeans or a long skirt. Her favorite combination is a black turtleneck paired with either dark blue ripped jeans or an asymmetrical long skirt with double side slits. She wears both with knee socks and hardy brown boots.

Personality:
A newly advanced Senior, Catherine is all but done through with the humdrum of high school. With above-average grades that contrast her average looks, Catherine is usually among the top scorers in her class; an achievement she takes pride in. It's one of the things that feed into her proud nature, which has made her somewhat of a loner and can oft make her seem unapproachable. Beyond her standoffish appearance, Catherine is a moderately friendly girl who down-to-earth and who likes talking about her three pet cats. Family circumstances have groomed her to be resourceful and resilient, however, she isn't one to handle setbacks well and, in fact, takes them rather poorly.
Name:
Catherine Grimaldine
Kinship:
Mythickin
Myth/Legend:
Nekomata
Gender:
Female
Age:
17
Physical Features:
After the Oscillation, Catherine now sports a pair of Lynx-ears that replace her formerly human ones. Her bodily proportions have hardly changed, save for a long, whip-like tail divided right down the middle and split into the two whispy tell-tale signs of a Nekomata.
She does, however, possess the haunting slitted pupils of a cat which are framed by light green flares that fade into the yellow of her eyeballs.
Appearance: [Optional]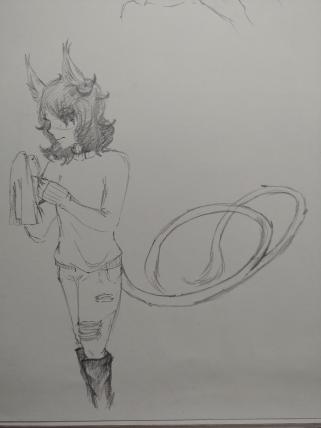 Art by the lovely @MegaAbsol
Personality:
The Oscillation has made Catherine a bit more volatile. Her emotions more easily escape her grasp, especially those having to do with anger, resentment, and ill-will. She's become rather petty and seeks to settle scores for the slightest of misdeeds done towards her. In a few words, she's become more malevolent and vindictive, though she tries, with some success, to keep her emotions in check.
Mythos:
A nekomata is a type of cat yokai that originated from Japanese folklore. Many people mistake the nekomata for the bakeneko. While the two have the same original life of being house cats before transforming into beasts, the nekomata are more hostile. Not only are they older and larger cats compared to the bakeneko, but they also have longer tails that would split into two. Furthermore, not all bakeneko are malevolent while all nekomata definitely are. It is also believed that the nekomata are more able to speak human language in comparison to the bakeneko. Due to their larger size, the nekomata are also able to cause more damage and wreak havoc in comparison to the bakeneko.
The nekomata were also cunning creatures that used several tricks in order to lure people into the mountains. One of their many tricks included mimicking the sound or cries of people who are in peril. Their tricks were not limited to this, as they would do anything to lure their prey into the dangers of the mountains and away from the safety of their own homes. These victims, upon encountering the nekomata, would be attacked, killed, then eaten by the beast. While its appearance was still uncertain, most descriptions of this monster were still quite scary.
The demon cat would, in order to kill more people, transform into human form. They are not limited to only a single human body and can take several different forms. Another skill or power of this devil cat was believed to be the ability to talk to the dead. Not only that, but the nekomata was also said to be able to control the dead and use this to torment human beings. They would do this just to spread mischief and to cause misery among humans. A trick that they would do to further torment a person is to taunt them with the visions of their loved ones who have already passed away. On the other hand, it is said that they only generally do this to the people who have caused them harm while the cats were still alive.
Spiritual Awareness (Passive)
Nekomata are able to sense and communicate with the deceased.

Ghost-Fire
Nekomata possess the ability to wield ghastly flames.

Necromancy
By jumping over a corpse, the nekomata is said to be able to reanimate it, and control the zombie through ritualistic. Dance.
Enhanced Senses (Passive)
Bakeneko possesses the enhanced perception of a cat, enhance to supernatural level. This grants them night vision and an impressive sense of hearing and smell.

Enhance Feline Physique (Passive)
Bakeneko possesses the physical capabilities of a cat, enhanced to supernatural levels. This grants them exceptional agility, stealth, and coordination, along with smaller boosts to strength and speed.

Haunted Malevolence (Passive)
Nekomata are cruel and vindictive creatures, taking revenge for the slightest offense and pleasuring in tormenting their enemies. They are more prone to acts of cruelty, vengeance, and maliciousness.

Feral Appetite (Passive)
Bakeneko can safely eat virtually anything no matter how decayed, poisonous, or unhealthy it may seem. Their favorite food is in fact, snake venom.

Shapeshifting (Active)
Bakeneko can shapeshift, changing their size and appearance, however, they can only take the form of humans or cats.

Flight (Active)
Bakeneko are capable of flight.

Caitsith Lullaby (Active)
The Nekomata is reputed to use a strange form of sorcery to lull opponents to sleep, though it can be resisted by intense pain or stimuli.
Dream Walker (Active)
It's said that Bakeneko can enter the dreams of others.

Possession (Active)
Nekomata can impose their spirit on others, usually normal humans, possessing them temporarily.
Force
Power
High
Strength
Above Average

Defense
Toughness
Above Average
Resilience
Average


Dexterity
Speed
High
Agility
Extremely High
Quickness
Very High


Energy
Constitution
Average
Stamina
Below Average
Endurance
Average


Tenacity
Elemental Resistance
Average
(High resistance to Toxins/Poisons)
(Low resistance to Holy things)
Control Resistance
High
Penetration
Above Average
I mentioned it above, but note that characters will not have access to all their abilities right away.

@Clite of Dragonbow
@DarkHydraT
@OmnipotentOnion
@Sky5372
@sSoul
@~Patriot~
In case you missed the first link:

The Oscillation, by Scott Edwards


Art by
Likesac

and just in case, proof of permission to use Scott's world for the RP.


Last edited: