Feathered Overseer
Staff member
Moderator
Mega Lopunny
[type=Normal][/type]/[type=fighting][/type]
​
View attachment 25031
Japanese Name:
MegaMimilop
Height:
4'03"
Weight:
62.4 lbs.
Classification:
Rabbit Pokemon
View attachment 25028
Ability:
Scrappy
View attachment 25029
Revealed:
Mega Lopunny was revealed by the CoroCoro leaks on the 8th of August 2014. It was later revealed internationally on August 10th via the Pokémon Company's YouTube channel and Pokémon.com.
Additional Info:
It's said that "Mega Lopunny's wild fighting instincts, long dormant, have been awakened! A full-power strike from its ears could crumple solid steel plates. Its personality transforms and becomes extremely aggressive, which often leaves its Trainer feeling bewildered by the change."
View attachment 25033
Mega Lopunny receives major boosts to its attack and speed stats.
HP
: 65
Attack
: 136
Defense
: 94
Sp. Attack
: 54
Sp. Defense
: 96
Speed
: 135
View attachment 57203
Mega Stone:
Lopunnite.
OR/AS:
Mauville City - given by a man in a suit in Mauville Hills (Following Primal Kyogre/Groudon narrative).
View attachment 25030
Mega-Evolves from Lopunny.
View attachment 57204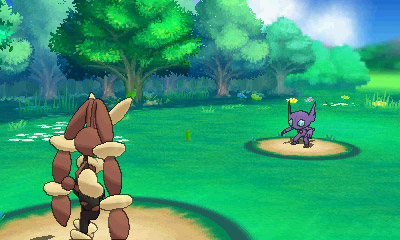 ​
Last edited by a moderator: